Score customers on the go by converting your website into an iOS or Android app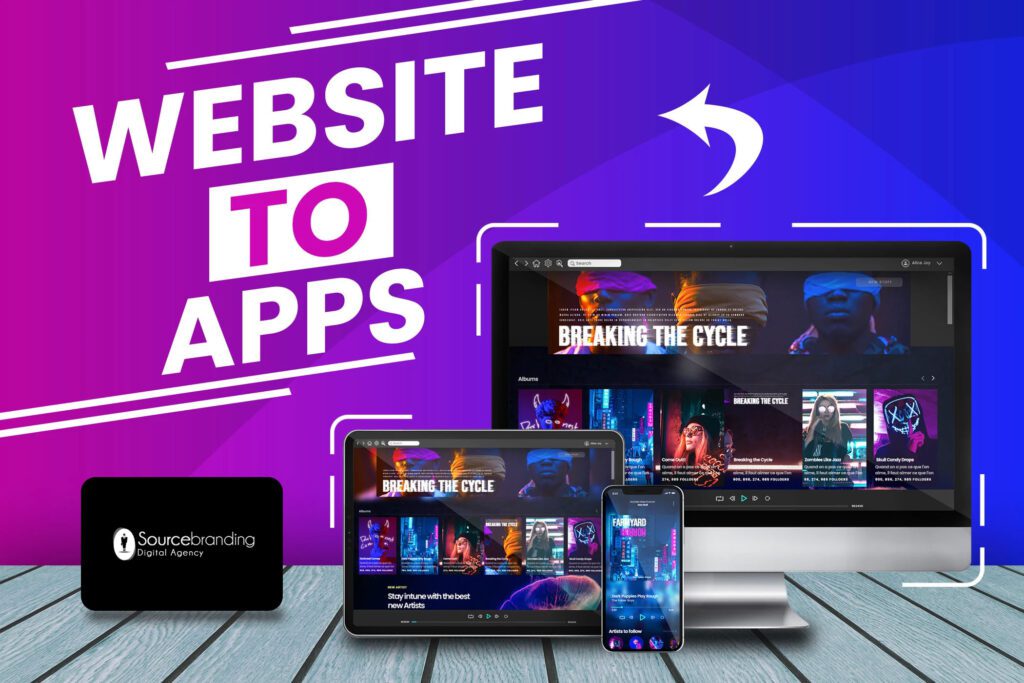 We will convert your website /blog/web pages into great Mobile apps (Android and iPhone app)
Whatever you will update on your website…the app will be automatically update. There is no need to update app manually.
Here are features apps will include !
App Icon with your logo
Splash screen 
Pull down to refresh
Internet connection detection
Loading spinner integration
Deep Linking
Send you .apk or ipa file
Admob Ads integration (for some extra charges)
Push Notifications We'll provide dashboard where you can send unlimited push notifications to your app users
App submission to Google Play store and Apple App store if you want (optional ) under YOUR Developer Accounts(App approval on Apple app store will completely depend on your website. Apple may accept or reject the app)
Free Technical support
We are very responsive, and deliver fast at a great rate. We are ready to jump on a zoom call with you to work through your new project. We all about providing bespoke solution that is tailored to your needs through the use of 9+ years of experience and expert solutions.
Score customers on the go by converting your website into an iOS or Android app and more..
 Convert website to android app
Transform your website into an android app in one hour
Convert website to iphone and android apps
Be your react, react native developer
Convert a website to a pro ios, android app with a control panel
Convert website to android app and ios app
Convert website to android app and ios app
Convert website to android app and IOS app
Convert your shopify store into android and ios apps
Convert wordpress website into android and iphone app
Convert website to android app , webview app using webview
Build foodomaa mobile app with alert sound notification
Convert website to android app
Convert website to app or convert website to android app
Convert wordpress website to android app
Make houzez real estate mobile app
Develop telemedicine , doctor app in react native
Design and develop native mobile app for iphone and android
Convert and publish website to android and ios app
Convert wordpress blog into android and ios mobile app in flutter
Create buddyboss app for android and ios
Figma, xd into react native app
Make ios webview publish in the apple store in 48hrs
Convert your website into android and ios app
Convert your website to web view android app
Convert website to android app
Convert website to android app in 12 hours
Create ios webview app for iphone ipad
Convert website to ios app
Convert website to android app with push notification
Turn woocommerce to mobile app
Build android and ios apps for shopify or woocommerce store
Convert website to android apps
Develop an android app for your website webview app
Convert website in to apk
Convert website to android app in 30 minutes
Convert website to android and ios apps using webview flutter
Convert your website into pwa or progressive web apps
Publish your android app through fresh console
Convert site to webview android app
Create mobile app for news blog site
Convert your website to webview app
Convert your website to an android app using webview
Convert wordpress site to android and ios app using webview
Convert website to android app and IOS app
Create augmented reality in 10 min demo is free
Convert any website into andriod app using webview
Convert website to ios and android app with flutter using webview
Convert website to android app webview
Convert wordpress site to android and ios app using webview
Convert website to pro android app using webview
Convert website into android apps
Publish your android app on play store
Convert website to android app
Convert website to android app and ios app
Convert website to android app
Wowonder playtube website with android app
Your website convert to android app and apk
Covert website to apk for android and ios
Bugfix you android or flutter application
Convert website to apps
Build hybrid mobile app react native android ios
Convert website into professional android app
Change any website to android app
Convert website to android app
Convert website into awesome app with splash n social links
Convert website to android app
Convert website to android app in 20 minutes
Covert wordpress site to android mobile app using webview
Convert website into android app
Convert your website to apk in 24hrs
Convert website to android app professionally
Convert website to ios app or android app
Convert website to android app webview app
Convert a website to a pro ios, android app with a control panel
Convert website to android app and ios app
Convert website into app, free demo
Convert your website to mobile app with webview
Convert your HTML, CSS, javascript into android app
Publish your app in the play store
Programming an application for your website or online store
Convert any website to android app webview
Covert wordpress website or blog to android app
Convert website into mobile app within no time
Convert wordpress website to pwa or progressive web app
Do aso, send 10k plus organic users through app marketing
Convert website to pro android webview app
Develop app to make money when sleeping
Convert websites to android apps
Convert website to android app properly
Convert website to mobile app
Convert site to app responsive android apk
Convert website to iphone and android apps
Convert your website to an android app
Convert your website into android app by android studio
Convert websites to iphone and android mobile applications
Convert website to webview application
Convert website to android app ,wordpress site to app
Upload and publish app on google play console , store
Convert website to android app using webview
Convert your website into an android webview app
Convert website to android app
Convert website to android app, wordpress to app in 1 hour
Convert any website to android and ios app using webview
Design and develop flutter mobile apps
Convert your website to android app using webview
Convert wordpress site to android and ios app using webview
Convert your website into ios and android app
Convert website to android app using latest sdk
Convert website into android and ios app perfectly
Develop android, IOS apps with flutter firebase, rest API
Convert website to mobile apps
Convert website to mobile apps both android IOS
Convert website to android app in 1 day using webview
Convert website to android app in 30 minutes
Create webview app for your website
Create woocommerce based food delivery app and website
Convert your website to android and IOS app
Convert your website to an android or IOS webview app
Convert website to android and ios apps using webview
Convert site to android ios app with free pro screenshots
Do aso, send you 1000 plus unique user for ios app
Convert website to android app and ios app
Your website as windows app
Convert website to android app and IOS app
Convert website into android app
Convert pwa website to android app apk and upload on google play store
Convert website to android and ios app
Convert website to android app, wordpress website to app using advanced webview
Convert website into android and ios app
Convert your website into an android app in one hour
Convert website into IOS or android app
Convert wordpress website to android and ios app
Convert your wordpress or any website to native android app
Convert your website android or ios
Convert website to android app using webview
Convert multiple websites to one android mobile app within a few hours
Convert website into android app
Convert your website into android and IOS app
Convert website into android and ios app
Convert website to android app and publish on my play store
Develop cross platform ios android xamarin forms apps
Convert website to pro android app using webview
Transform any of your websites into mobile apps in just 1 hour
Convert website to android and ios app
Publish app on play store
Convert website into app as per your requirements
Install and update wowonder android app
Convert your website to android app and publish on playstore
Upload your app in play store
Develop fast dating app, chatting app, video app and discussion app
Convert website to android apps very smartly
Create offline pwa progressive web app for you
Convert your website to pro android app
Convert website to app with professional quality
Publish your android app on play store
Convert your website to android app
Convert any website to mobile app and host it on my developer account
Develop a progressive web app for you on glide app
Convert your website to mobile app with webview
Convert website to android app just in 1 day
Convert your website into android and ios apps
Convert website into android and IOS app
Convert website to android app
Convert website to android app
Convert website to an android and ios app
Build an app for your website
Convert website to android apps
Convert your website to mobile app for android and ios
Convert pdf ebook doc word to android ebook reader mobile app
Convert any type of website to android app using webview
Convert your site to an app and publish your app in the play store
Convert website to an android and ios app
Create a progressive web app with angular and ionic
Convart your website to android app and input ads
Convert your website to an android app
Convert your website to android app ready to publish google play store
Convert your website into mobile app instantly
Convert website to pro android app using webview
Convert the website into an android app
Create a mobile app development for android and apple
Convert wordpress site to android and ios app using webview flutter
Convert your website or html into an android app and connect to admob
Design and develop on demand service app like handyman
Convert a fantastic mobile app from existing website
Convert website into android app
Convert website to android app
Make android app and IOS app mobile app form website
Convert existing website into progressive web app pwa
Convert website to android app
Covert your design into mobile apps using react native
Convert website to android app
Convert any website into android app and ios app
Convert website into android app
Convert your website to a mobile app
Convert your website to an ios app
Convert website to android app using web view
Do flutter mobile app development and flutter UI or be your flutter developer
Convert website to android app and ios app using webview
Convert website to app, give me chance
Android and ios app developer development
Convert your website into an app
Convert any website to android and ios app, web to flutter
Convert your kivy application to apk
Convert your website into cool responsive android app
Make an android or ios app according to your requirement
Convert website to the android app in a day
Make mobile app for android and IOS
Android developer and flutter developer nd wordpress
Fluxstore mobile app customise
Convert website to android app and ios app
Convert website to android app professionally
Convert website to app
Convert a website into an advanced android app and publish it on my playstore
Build your flutter android app and ios app
Convert your website into andriod and ios apps
Convert website to app for both ios and android
Develop IOS wkwebview app or update your uiwebview app
Convert websites to iphone and android apps with backend
Convert your website to flutter app
Customize any premium react native app,template
Convert your website to android app using webview
Convert wordpress website to mobile app
Convert your wordpress news or blog website into native android and IOS app
Convert your website into professional apps
Be mobile app developer for android,ios app development
Convert website to android app
Convert your website to an android app
Convert website to android app using webview
Convert website to an android and ios app
Convert your website to app
Convert website to android or ios app
Convert any website to an android app using webview
Convert website to an android and ios app
Convert website to mobile application
Convert website to android app within 24 hourss
Convert any website to the android app within 1 hour
Convert website to android app in 1 hour
Convert your xd, figma to android xml
Convert angular app into android application
Convert website to android app
Covert any website to android and IOS app in only 12 hours
Do high quality native ios, android apps for your websites

Convert website to android app using webview
Convert website to android app using webview and twa
Do any website convert to app within 1 hour
Do any website convert to app within 1 hour
Convert website into android app or ios app
Convert your website into flutter webview app
Convert website to pro android app using webview
Develop your android application in android studio
Build hybrid app in flutter and react native
Convert your website into responsive application
Convert your website to android app, wordpress to app in 1 h
Convert any website to android and ios app, web to flutter
Convert website to android app
Convert website to android and IOS apps in 4 hours
Convert a website to an android and ios app
Convert site to android app apk webview with push notification and admob ads
Setup wowonder based apps or website
Convert website to android and ios apps
Convert website into android apps using webview
Convert websites to android or IOS apps in 30 mins
Convert website to android app and ios app
Convert website into android app
Convert website to ios and android app
Develop the webview application
Convert website to  android and ios app using webview
Convert website to android and ios app using webview
Convert your website to android and ios mobile apps
Do aso, rank your ios or android app through keyword search install
Convert website to android app using webview
Convert website to webview android app in 6 hours
Convert any shopping store into android and ios app and publish freely
Convert website to android app
Convert website to mobile app, android and ios app
Create application for your business website
Create application for your business website
Create webview android application of your website
Convert your website to android app webview
Website to android app in 30 minutes
Convert website to android app
Convert site to app
Convert any website to an android app in only 1 hour
Convert any website to an android app in only 1 hour
Convert website to an android app
Design and développe useful applications and logo for your business
Convert website to app professionally
Convert your website to android app
Convert website to android app with attractive splash activity design in 24 hour
Convert website to android app with attractive splash activity design in 24 hour
Convert website to google android and iphone app
Convert a website to a android app with a control panel
Convert your website to apps very fast
Convert your website to android app
Convert website to android app in 30 minutes
Convert any website into android and ios mobile app
Develop an android app or will be your android app developer
Develop your web based application
Make you a web app
Convert your wordpress website to ios and android app
Create android app for ecommerce website
Trash mails temporary email address system
Build an android and IOS webview app for your website
Transform or convert your website to android application
Develop a hybrid application for your website with a beautiful splash screen
Make channel app for your youtube channel
Develop telemedicine , doctor app in react native
Create you mobile application with react native
Convert website to android apps
Do native ios app development using swift and objective c
Create android native or hybrid app for you
Convert website to android mobile app
Convert website to android app within 12 hours
Convert website to an android and ios app
Do Development And Design Android Application for your WordPress Site
Create your real estate website and mobile app
Transfer your website into a mobile app using flutter
Develop react, redux, firebase, material UI based web app
Convert your website into an app from kodular, thunkable and appybuilder
Convert website to apps with attractive activity design within 2hours
Convert your website into android apps
Convert your website into an attractive android app
Convert website to android app
Convert website to mobile app
Convert website to android app
Convert magento store or wordpress website to mobile app
Convert website to android app
Iwill convert website to android app in any time
Convert your site to mobile application
Convert website to android
Make native, web and hybrid android application for you
Convert website into an android app and connect to admob
Convert your website to mobile app with webview
Convert website into android app
Convert your website to ios and android app
Convert website to android app in 30 minute
Convert website to android and IOS app using webview
Convert website to first android app
Convert your website into app and get it on playstore
Automate excel worksheets into mobile application
Convert website to app
Convert your website into android app
Do app development for you
Convert website to android app in 24 hours
Convert website to android app
Convert website to first android app
Convert website to android app
Convert your website into app and get it on playstore
Convert website to android app in 30 minute
Convert magento store or wordpress website to mobile app
Convert website to full responsive android or ios app
Convert a website into android app
Convert website into android app
Convert website to android
Convert website to android app
Convert any website to android app using webview
Make native, web and hybrid android application for you
Convert your website to android and ios apps
Convert your website to ios and android app
Convert website to android app
Convert website to IOS and android app
Convert any type of website into android app
Convert website to app or android webview app
Convert website to android app with webview
Convert your website into an android application
Convert your website into android app and IOS app
Develop an app for your website
Convert your website in android application
Convert wordpress, ecommerce site to android app
Convert website to app
Convert image, PSD, xd, and figma file to android XML layout
Convert website to android app
Convert website to android and ios with webview or native
Do mobile app in react native app
Convert website to android app
Convert your website into cool android app
Convert web to app or website to android app using webview
Make app for your website,channel or page
Convert website to android app
Convert website to android app apk
Develop mobile application for android ios
Convert any website to android mobile application
Make your website into app in an ATTRACTIVE way
Convert your website to mobile app with webview
Convert website to android app on google play store
Convert website to android app in 24 hours
Develop design convert websites to responsive mobile android or IOS app
Do app development for you
Convert your website into great android app within 1 hour
Do your shopify magento woocommerce mobile app development
Develop android, ios mobile app using react native
Convert website to android app
5 i will convert website to android mobile app
Create 1 good mobile app
Convert website to android app
Convert your website into ios webview app swift4 webkit
Webview ios app by swift
Convert website to mobile app using webview
Build paperplane android app for wordpress blog
Convert website into android and ios using flutter
Convert your website into a mobile application
Develop a mobile application using react native
Do migration from ionic cordova to the ionic capacitor
Do migration from ionic cordova to the ionic capacitor
Do android app and ios development
Convert website or android to iphone and ipad app
Convert website to android app using webview in 30 minutes
Convert your website to app
Convert your website to android webview app
Convert website to android app using webview
Convert website to android app using webview
Convert website to apps
Convert your website to android application
Build android, ios app in react, nodejs, mongodb or firebase
Convert any website to android app
Develop any kind of android mobile apps
Convert your website to android app
Convert your site into app as your requirements
Convert your responsive website into app for android and ios application
Convert website into native android app
Convert web site to android app
Convert website into an android app
Convert website to android app professionally
Convert website to android app convert any site to an app
Convert website into android application
Convert your existing website to mobile application
Convert your website to app with extra functionalities
Convert website into the app
Convert any website into an android app
Convert website to android app
Convert website to android app
Convert website to android app
Convert website to android app
Make and publish your android app to my playstore account
Convert your website into an android app
Convert website into android
Do mobile application using react native
Convert shopify site to android and ios app using flutter technology
Convert shopify site to android and ios app using flutter technology
Convert your wordpress site and blog into android app
Convert website to app
Convert website to android app and ios app
Convert website to android app and ios app
Convert your website into an hybrid android app
Convert your website to android and ios app
Convert your website into app using webview
Develop an ecommerce flutter app
Build a mobile app for woocommerce store
Webview app, convert website to app, website to app, website to android app
Convert your website to android app
Convert website to android app
Convert your website into android app
Convert website to IOS app and android app
Convert website to android app nd ios app, add push notification
Convert website to android app with push notifications
Convert website to android app using webview
Convert website to android app and IOS app
Convert your website to app android and IOS
Convert wordpress site to android and ios app using web view
Convert website to android app, webview app
Convert your website to android app
Convert your website to pro android app using webview
Convert website into a mobile app
Convert your website into responsive android app
Design and develop food ordering and delivering app
Convert your website into android application perfectly
Convert website to IOS app and android app
Convert web to android apps using android studio
Convert your website to android app in 20 minutes
Convert website to android app
Convert and publish a website to ios app with guarantee
Aplicaciones móviles nativas de reacción para
Convert your website to an android app
Convert any website to app using pwa
Convert your website to android apps
Convert website to pro android app using android webview
Convert website to android app in 20 minutes
Uses the flutter to develop cross platform app
Turn your website into an app
Convert your website to android app
Create a webview app for your website
Convert your website to android app
Convert your website into an android mobile app
Convert your website to android app
Convert website to an android app
Convert your website to an android app using android studio
Convert website to android app