Build your dream iOS or Android app from scratch with our app specialists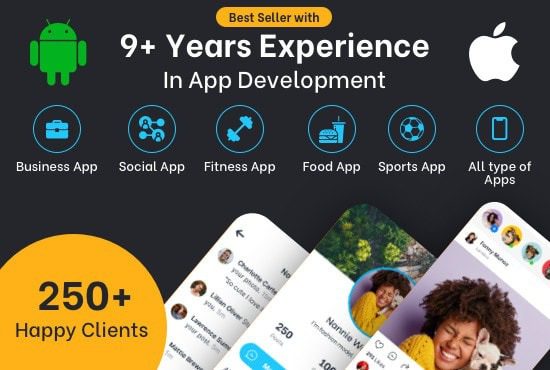 Along with our expert and dedicated team of developers and designers we offer Mobile app Development(Android & IOS) and UI/UX Designing Services.
We have more then 9 years of experience in both iOS and Android app development and have many projects live on both Play store and App store. We have a big portfolio which contains a number of apps related to different ideas like Dating, Taxi booking, Google maps, Social Networking etc developed by us. 
Let's connect to discuss further about your project. We assure you great and genuine quality work done which will be up to your expectations. 
Looking for a professional ios or android app developer? You're at the right place!
If you have a dream of making impressive app but have dilemma then we are specially here for you . We have an expert team to support your work, deadlines & provide responsive design with bug-free coding.
WE PROVIDE PERSONAL ATTENTION ON EACH PROJECT.
OUR AREA OF EXPERTIES
Web-view app/apps that need backends
Picture gallery app, Social Media app
Payment integration
Map based tracking, GPS, Core data
Calendar based app
Firebase, Chat Applications , SQLite
Employee time tracking camera based app
Service Based apps
In-app purchase
Payment gateway & AWS integration
Tourist guide app
Recipes app
Social media integration
 Any type of ads or Push notification integration
E-commerce & Bluetooth app, OCR related apps /Barcode
 OUR AIM
Assure quality work
Save time & money(most precious commodity of today's swift life)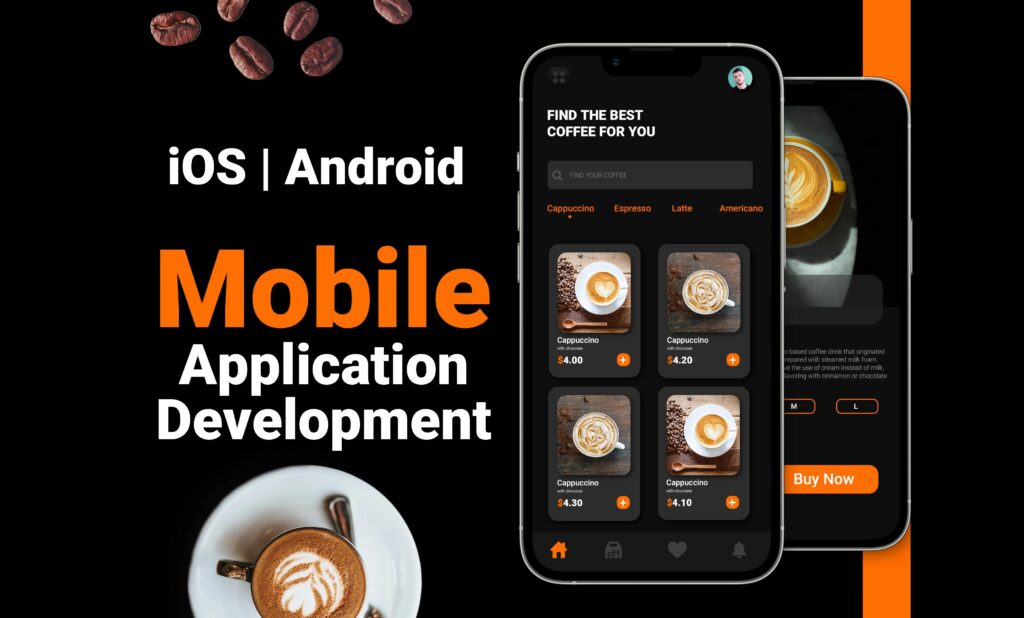 Platform
App type
Development technology
Purpose
Chat
Dating
Delivery
Restaurant
Shopping
Booking
Social networking
Medical
Maps & navigation
Lifestyle
Expertise
Localization
Performance
Design
Ads & monetization
Firebase
Analytics
We are very responsive, and deliver fast at a great rate. We are ready to jump on a zoom call with you to work through your new project. We all about providing bespoke solution that is tailored to your needs through the use of 9+ years of experience and expert solutions.
Build your dream iOS or Android app from scratch with our app specialists. Services include:
Develop uber clone android app
Ios app developer iphone app android mobile app development
Develop ios app iphone mobile app android mobile application
Develop IOS and android applications
Design and develop android and ios mobile application
Design the job finder mobile app
Develop an android app or will be your android app developer
Be your custom and native mobile app developer
Develop a high quality mobile android and ios app
Create android and ios app using react native
Develop enterprise android and ios flutter apps for you
Develop an ios app from scratch
Develop beautiful flutter android and ios apps
Be your flutter developer and build android ios flutter app with firebase
Develop beautiful hybrid flutter android app and ios app and mobile application
Develop a robust custom app for you
Build your classified website, android and IOS app
Develop a robust custom fitness app
Develop your ios app from scratch
Develop uber clone or taxi booking app like indrive, ola, lyfter
Develop cross platform apps using flutter and ionic
Fix bugs, build, develop custom react, react native apps with type or javascript
Provide vpn admin panel with app
Build an online grocery or food delivery app with ordering website
Provide laundry app for ios or android
Create a beautiful ios and android app using flutter
Develop stunning apps for your needs
Turn your finished app design into a real working app
Develop a flutter app for both IOS and android mobile
Deliver taxi booking app like uber, carrem,ola,lyft,turo clone with nodejs
Develop your application with react js and react native
Develop android tv or apple tv application for you
Developer android and ios app mobile app
Develop your professional ios app
Be your android app developer for android app development
Be your flutter developer and build android ios flutter app with firebase
Develop ios and android applications
Be app developer iphone app android mobile app development
Build a flutter mobile and web UI
Develop an android and ios app with flutter and firebase
Develop android app in android studio
Be your flutter developer for the flutter app and flutter web
Create android app or make android app android app developer
Create uber clone app for android and ios
Build mobile app, mobile app development, mobile app UI UX
Do mobile app development as android app and ios app developer
Develop a flutter app in android and ios
Do android app ios app development android developer
Develop flutter app from figma or adobe xd
Develop online food delivery app for your restaurant business
Develop food delivery app, food delivery like doordash, grubhub, uber eat
Develop an android and ios app using flutter or quasar
Be your mobile app developer for android app and IOS app development
Build mobile app using flutter for ios and android
Develop ios and android mobile app using flutter
Develop music player app for android and ios
Develop android app and will be your android app developer
Develop android app using kotlin
Build mobile app in ios and android
Develop your custom roku, firetv, samsung and android tv apps
Create android and ios app using react native
Develop enterprise android and ios flutter apps for you
Create a beautiful ios and android app using flutter
Develop a high quality mobile android and ios app
Build native IOS mobile app for iphone, ipad, apple watch
Be your ios app developer and android app developer or mobile app development
Use flutter to develop an awesome ios and android mobile app
Develop ios application using latest swift for iphone
Develop web or mobile apps using nodejs, react and ionic
Build your IOS and android mobile app using flutter
Build your IOS and android mobile app using flutter
Be your ios developer and update old apps
Be your ios developer and update old apps
Do flutter app ui design in 24 hours
Develop food delivery app grocery app gojeck clone uber clone swiggy foodpanda
Develop quality ios applications in swift and objectivec
Do mobile android and ios app development
Do mobile app development or android ,ios app developer
Develop android apps, ios app, app development
Develop mobile apps in flutter and firebase
Develop mobile apps in flutter and firebase
Develop android and ios mobile apps using react native expo
Mobile app development for android and ios using flutter
Develop an android app or will be your android app developer
Do ios app development or be your iphone app developer
Design and develop android apps in android studio
Design xamarin forms ui ux for ios android uwp
Develop android application for you kotlin java
Convert adobe xd, figma design into xcode swift
Develop pwa or progressive web app development
Develop pwa or progressive web app development
Create custom hybrid android and IOS mobile app using flutter
Create earning app for online earning
Develop your mobile app with react native and expo
Mobile app development for IOS and android
Develop native ionic angular IOS and android app
Develop both android and ios mobile apps using flutter
Provide complete android apps and bug fix
Be your flutter developer for android and IOS application
Be your flutter developer for android and IOS application
Build mobile app, mobile app development,mobile app developer
Build mobile app, mobile app development,mobile app developer 
Convert adobe xd, figma design into xcode swift
Do ios app development or be your iphone app developer
Develop android application for you kotlin java
Create earning app for online earning
Design xamarin forms ui ux for ios android uwp
Design and develop android apps in android studio
Create custom hybrid android and IOS mobile app using flutter
Develop pwa or progressive web app development
Create a ios app using swiftui
Provide complete android apps and bug fix
Transform your excel or google sheet into mobile application
Develop your mobile app with react native and expo
Develop both android and ios mobile apps using flutter
Be your flutter developer for android and IOS application
Develop native ionic angular IOS and android app
Mobile app development for IOS and android
Build mobile app, mobile app development,mobile app developer
Develop an android app or will be your android app developer
Develop cloud based augmented reality or ar app
Be building mobile app for iphone and android
Be your professional ecommerce mobile app developer,
Develop nfc tag read write ios and android mobile app
Make chatting, dating, social media, video call app
Be you flutter application developer and will do flutter
Develop android IOS mobile apps in hybrid technology
Develop ios mobile app using swift xcode
Develop flutter mobile app for android and ios app
Develop ios and android mobile application using flutter
Create android app or your android app developer
Be your developer for android and ios based mobile apps
Develop your web app, backend with xano and draftbit
Develop android and ios mobile apps using react native
Develop ios apps for iphone and ipad using swiftui and xcode
Develop android, ios apps in flutter with firebase
Do ios app development for iphone and ipad using swift 5
Be your flutter developer for hybrid apps
Be your android app developer for mobile app development
Develop design your mobile apps android ios native or hybrid
Develop ios apps for iphone and ipad using swift 5
Be your android app developer for android app development
Develop an android app
Help you to launch home services app
Develop a flutter app for both android and ios
Develop an android app or will be your android app developer
Design and develop hybrid android, ios app using flutter
Develop first rate flutter app for android and IOS
Develop your android app or be your android app developer
Develop an android app or will be your android app developer
Build windows and android app with kivy and kivymd
Develop best flutter app for android and IOS
Develop a cross platform app using react native
Build flutter ios android mobile app API for you
Develop ios apps for iphone and ipad using swift 5 and xcode
Develop mobile app with bluetooth, API integration
Build cross platform xamarin forms apps
Do custom mobile apps development for android and ios
Do mobile app development
Iphone app android app developer ios mobile app development
Develop ios app for your business
Be your ios and android mobile app developer
Develop native android app for you
Be your android app developer for android studio application
Do android studio apps projects and tasks
Design and develop ios and android mobile apps
Develop your android and ios mobile app using flutter
Develop an android, IOS mobile app using flutter with firebase or apis
Develop an amazing ios app form scratch
Fix bugs and build mobile applications
Develop android app with kotlin java and firebase
Do flutter ui flutter app flutter design flutter web
Build multi restaurant food delivery android app
Create react native app for you
Develop android and ios mobile app using flutter
Expert in mobile app development
Develop ios and android mobile app
Make the successful mobile apps
Mobile app development ios iphone android developer
Be your android developer using kotlin and java
Develop android mobile app, ios mobile app, mobile app development
Develop ios and android app using flutter
Develop pro android earning app for passive earning
Build food delivery app android ios and web admin restaurant
Be your flutter developer
Be your android app developer, kotlin app or java developer
Develop bubble io adalo web application bubble app bubble io bubble app adalo
Be your android app developer for android app development
Decompile android apk and can give android studio code
Be your ionic expert mobile developer for you
Develop an android app or will be your android app developer
Be your flutter app developer
Develop your hybrid app with buildfire and bravo studio
Develop your android apps or be your android developer
Do ios app development using swift with firebase
Create react native mobile application for IOS and android
Develop android and IOS app using flutter
Make most beautiful android and ios app for you
Develop an android app or will be your android app developer
Do mobile app development for android and ios with flutter
Do mobile app development as ios and android mobile app developer
Develop amazing both android and ios app using ionic
Do react native mobile app development
Be building flutter mobile app with flutter firebase
Complete mobile app with ui ux design with source code
Be your flutter application developer
Develop amazing mobile app android, ios, web
Develop your android IOS and web app using flutter with backend
Develop a mobile application for android and ios
Create and andriod and ios app using flutter
Build mobile app using flutter for both IOS and android
Ios app development iphone app mobile app developer in swift
Build mobile application for android, IOS using react native
Be android app developer, android studio application
Develop android app with php web services and sql database
Develop your dream mobile app for ios and andriod
Be your appsheet expert
Be your flutter developer and build ios android app with firebase
Develop android and ios mobile apps using flutter
Develop ios and android mobile apps using flutter and native
Develop IOS and android apps using flutter
Create android apps for you if you need
Your ios app developer,ios development and iphone mobile app
Develop your react native android and ios apps
Provide employee tracking mobile app and cms
Create android mobile app in java
Develop responsive android app
Develop ios and android apps in flutter cross platform
Shape your mobile app idea into reality
Develop mobile app android and IOS app using flutter,
Create flutter app for you
Create ios application, iphone mobile app for your business
Work in react native i am very best in react native
Develop your amazing ios and android apps with flutter
Design and develop progressive web app pwa for you
Develop your android app in kotlin
Convert the design to real react native application
Develop your IOS and android mobile app with flutter
Create professional android and IOS app on react native
Build shopify mobile app
Be building mobile app for android and IOS
Build an android app or be your android app developer
Build beautiful mobile app using flutter and firebase
Create mobile apps ios and android
Develop android app or game using android studio
Convert figma, adobe xd or design files to react native app
Build ios, iphone, android and mobile application
Be your android developer for android app development
Develop android and IOS mobile apps using flutter
Develop hybrid ios and android apps in flutter and react native cross platform
Create android and ios app using react native
Build cross platform mobile application in react native and flutter
Be your mobile app developer and android app using kotlin, java
Mobile app developer for android and ios app development
Be your flutter application developer
Develop a complete android app for you
Develop android and ios mobile app using react native
Create and design mockup prototype for your app
Do flutter mobile app development with flutter firebase android ios
Develop food delivery apps like ubereats doordash grubhub
Give flutter android and ios mobile app development services
Ios app development android app and mobile app development
Develop responsive ios, android app with flutter
Develop mobile app using react native
Ios app developer and android app developer and do mobile app development
Develop bubble app, bubble custom plugin, bubble website on bubble io
Design android mobile app, ios mobile app, and mobile app development
Develop or fix your quasar, vuejs or nuxtjs app
Be mobile app developer for android and ios platform
Be your no bugs mobile app developer android ios or hybrid
Ios app developer android app iphone mobile app development
Build on demand courier delivery app and parcel delivery app with free website
Do mobile app development for android and ios
Build android and IOS mobile app using flutter
Do best android and ios mobile app development
Help you debug formulas and automations in appsheet
Design android app XML front end with neumorphism technology
Build a mobile app for android and IOS
Do mobile app development for android and ios mobile apps
Be your android app developer on android studio
Do mobile app development for iphone android
Create uber clone app in flutter
Develop ios and android mobile app development
Make money earning app for android
Create a native ios app for you in swift
Be building flutter application for you in android and ios
Provide cross platform apps using react native
Develop hybrid and native mobile apps using ionic 4 and 5
Design android mobile app, ios mobile app, and mobile app development
Develop ios and android mobile apps using react native
Develop taxi booking app like uber, ola, lyft
Do advance android development and designing
Build IOS and android mobile app using flutter
Do android ios app development as expert mobile app developer
Create modern glassmorphism UI design in XML in android studio
Create a simple app
Convert your business and ideas to android apps and fix bugs
Do any type of app under 30 days, ios and android
Develop a uber app for android and IOS
Create a cross platform app for you
Develop android app or be your android developer
Develop your new custom android app
Build high quality android and ios application
Develop a robust custom app for you
Do airbnb,travel,real estate app
Bubble app developer adalo bubble io appypie appgyver developer appsheet bubble
Develop react native mobile application, android, ios
Develop mobile apps using ionic framework
Build elegant android applications in kotlin
Make your idea or requirement into a powerapp
Develop ecommerce hybrid mobile app android
Develop nativescript mobile apps
Develop nfc,rfid read write apps
Design and develop mobile app in flutter
Develop bluetooth low energy mobile applications
Develop a custom app using flutter for android and ios
Create flutter android and ios app for wordpress learnpress lms
Build mobile app using flutter for both IOS and android
Give restaurant flutter app with laravel website,admin panel
Develope android and ios app using flutter
Develop and build mobile app for android and ios in flutter
Desarrollo de apps y webs multiplataforma y diseño UX UI en español
Create your android and ios app using flutter
Build professional cab booking app for you, taxi booking app
Build gps location tracking mobile app for android and ios
Do react native mobile app development
Publish your android app on google play store
Be your mobile app developer ios and android
Develop custom flutter app or update existing app
Do android development in android studio
Develop an ios app for iphone and ipad in swift and swiftui
Be your mobile application developer for building mobile app development
Develop and clone an app with bigo live features
Develop your hybrid mobile app using react native and expo
Develop mobile apps using flutter and firebase
Make awesome flutter UI
Create a wallet app like trust wallet for android and ios,erc20 token
Create android and ios application for your business
Convert website to android app and IOS app
Develop your android app or be your android app developer
Design and develop android applications
Create a cross platform mobile app in react native
Create android and ios application for your business
Create a cross platform mobile app in react native
Create ios apps in swift 5 with firebase
Design and develop android applications
Develop android app with flutter
Be your android app developer for android development
Be your android mobile app developer, ios mobile app development, iphone app
Develop both android app and IOS app using flutter
Do nfc tag read write ios mobile app smart card popl clone
Transfer your idea into native ios iphone app in xcode
Do mobile app development and app ui ux design
Develop a flutter hybrid mobile app for android and ios
Create VPN app for passive income with admob
Crypto trading bot, mining bot, crypto wallet app, blockchain app, trust wallet
Create pro quiz trivia app unlimited questions and categories with admin panel
Do clone of dating app like tinder
Be your flutter developer to develop ios android flutter app
Develop food delivery app, website, taxi app, booking app
Develop web and mobile applications using react and react native
Be your flutter developer for IOS and android flutter app
Publish android app ios app on apple store and play store
Create image guess or trivia quiz earning money app with admin panel
Do ios mobile app development using swift
Develop an android mobile app using react native
Develop your native android mobile app with kotlin
Do your flutter assignments
Develop android and ios mobile apps with react native
Create you ai based android or IOS application
Develop an android app for you or will be your app developer
Do android app development
Develop cross platform mobile app in xamarin form or react native
Develop augmented reality mobile application
Develop android applications using kotlin and java
Build your ios and android mobile app using flutter
Develop ios application in iphone and ipad using swift 5
Do mobile app development in flutter ios android app
Build mobile app using flutter for both IOS and android
Develop an mvp as an adalo mobile app for your startup business plan
Develop ar and VR application and games
Build your doctor appointment booking app,website like zocdoc,practo,callondoc
Convert figma, sketch design to react native mobile app
Do flutter mobile app development, develop android and IOS apps using flutter
Create a react native mobile app for ios or android
Develop an ios app in swiftui
Build a simple android app for you
Develop, design android ios mobile app using flutter,kotlin,react,native, studio
Develop mobile app android and IOS app using flutter
Develop uber clone careem lyft ola for android ios and web
Develop your hybrid android and IOS flutter app development
Augment your vision in ar app using augmented reality
Develop a flutter app for android and IOS
Fix bugs and develop xamarin forms apps
Be your android app developer on android studio
Do mobile app development as your android app developer
Develop professional android application
Design and develop apps for android and ios using flutter
Develop your android and ios mobile app using flutter
Be your native ios developer swift objective c
Do ecommerce mobile app in a week
Develop cash app, money transfer app, send wallet, bank app
Develop custom and professional android application
Developed earning app for earning
Make your earning game app
Design and develop android apps in android studio
Develop ios and android app using flutter
Make tik tok like app short videos app with panel tiktok clone
Create your delivery app for restaurant italian developer
Develop ios and android mobile app using react native
Create cross platform app with react native
Create custom android and IOS mobile app using flutter
Be your android app, ios app, mobile app developer
Be your android application builder mobile application builder in android studio
Do cross platform react native mobile apps
Create a fitness app, workout app, health app, gym app
Develop fantastic classified website, classified app, classified ads
Developed application same a tiktok application
Develop flutter mobile apps for android and ios
Develop IOS app for you in minimum budget
Create awesome flutter widgets from xd design
Developed mobile application in ionic framework
Be react native app and android developer and designer
Create react native app with modern ui will be work on android and ios
Develop a taxi booking app for your taxi booking business
Develop VPN app for android with ads and subscription plan
Develop web apps, frontend in angular, ionic
Help you brainstorm your application idea
Build android and ios app using flutter
Do app development and be your android app developer
Design and develop your mobile app idea for android
Do your complete app development with flutter on ios and android
Develop android and ios app using flutter
Build native android mobile app
Develop react native app ios android mobile developer
Develop native ios and android app
Flight and hotel booking android app development
Make your full app for ios and android and publish it 
Make taxi app like uber, careem, lyft and ola
Develop IOS and android applications
Do android or flutter app development
Develop high quality android app in android development
Create ios travelpayouts app for you
Develop android and ios app using flutter
Create your ios or android mobile app
Do android and ios mobile app development using ionic
Design android mobile app ios mobile app and mobile app development
Design and develop IOS or android app
Make mobile apps using react native
Do on demand multi services app
Do mobile app development, UI design for android and IOS using flutter
Develop a mobile application with backend using flutter
Make custom android apps from scratch
Develop mobile app in react native using cli and expo
Develop fitness app, health and fitness, gym app, app development, mobile apps
Convert figma or xd into ionic app android and ios
Make android and ios applications that suits your business or personal needs
Build wallet app bank app nft minting website crypto sport website nft game
Make your mobile app in a week
Build restaurant menu app
Create bluetooth enabled android applications
Do ios and android mobile app development
Do android and ios mobile app development
Design and develop your app with flutter and firebase
Develop android and ios apps
Develop mobile app in react native
Do mobile app development, mobile app, building mobile app, android and ios app
Be your react native developer for ios and android app development, custom apps
Do mobile app development of ios developer android developer
Develop android ios mobile apps perfectly
Build android radio app for your online radio station
Develop ios swiftui n uikit in swift with firebase ,rest api
Make android professional custom vpn app using openvpn
Build flutter app for android and IOS
Help in setup and fix issues on mobile apps reactnative
Do development and implementation of supabase and firebase
Develop a food delivery app, for your food delivery business
Develop android, ios app
Do google sheet to app using appsheet
Build or fix android app issues and bugs
Develop your music streaming app for your music streaming business
Android woocommerce app in 2 days
Develop a professional mobile app using flutter
Design and develop ios and android applications
Design responsive UI for your android application
Integrate mapbox map in android app using kotlin 
Develop uber clone android app
Ios app developer iphone app android mobile app development
Develop ios app iphone mobile app android mobile application
Develop IOS and android applications
Design and develop android and ios mobile application
Design the job finder mobile app
Develop an android app or will be your android app developer
Be your custom and native mobile app developer
Develop a high quality mobile android and ios app
Create android and ios app using react native
Develop enterprise android and ios flutter apps for you
Develop an ios app from scratch
Develop beautiful flutter android and ios apps
Be your flutter developer and build android ios flutter app with firebase
Develop beautiful hybrid flutter android app and ios app and mobile application
Develop a robust custom app for you
Build your classified website, android and IOS app
Develop a robust custom fitness app
Develop your ios app from scratch
Develop uber clone or taxi booking app like indrive, ola, lyfter
Develop cross platform apps using flutter and ionic
Fix bugs, build, develop custom react, react native apps with type or javascript
Provide vpn admin panel with app
Build an online grocery or food delivery app with ordering website
Provide laundry app for ios or android
Create a beautiful ios and android app using flutter
Develop stunning apps for your needs
Turn your finished app design into a real working app
Develop a flutter app for both IOS and android mobile
Deliver taxi booking app like uber, carrem,ola,lyft,turo clone with nodejs
Develop your application with react js and react native
Develop android tv or apple tv application for you
Developer android and ios app mobile app
Develop your professional ios app
Be your android app developer for android app development
Be your flutter developer and build android ios flutter app with firebase
Develop ios and android applications
Be app developer iphone app android mobile app development
Build a flutter mobile and web UI
Develop an android and ios app with flutter and firebase
Develop android app in android studio
Be your flutter developer for the flutter app and flutter web
Create android app or make android app android app developer
Create uber clone app for android and ios
Build mobile app, mobile app development, mobile app UI UX
Do mobile app development as android app and ios app developer
Develop a flutter app in android and ios
Do android app ios app development android developer
Develop flutter app from figma or adobe xd
Develop online food delivery app for your restaurant business
Develop food delivery app, food delivery like doordash, grubhub, uber eat
Develop an android and ios app using flutter or quasar
Be your mobile app developer for android app and IOS app development
Build mobile app using flutter for ios and android
Develop ios and android mobile app using flutter
Develop music player app for android and ios
Develop android app and will be your android app developer
Develop android app using kotlin
Build mobile app in ios and android
Develop your custom roku, firetv, samsung and android tv apps
Create android and ios app using react native
Develop enterprise android and ios flutter apps for you
Create a beautiful ios and android app using flutter
Develop a high quality mobile android and ios app
Build native IOS mobile app for iphone, ipad, apple watch
Be your ios app developer and android app developer or mobile app development
Use flutter to develop an awesome ios and android mobile app
Develop ios application using latest swift for iphone
Develop web or mobile apps using nodejs, react and ionic
Build your IOS and android mobile app using flutter
Build your IOS and android mobile app using flutter
Be your ios developer and update old apps
Be your ios developer and update old apps
Do flutter app ui design in 24 hours
Develop food delivery app grocery app gojeck clone uber clone swiggy foodpanda
Develop quality ios applications in swift and objectivec
Do mobile android and ios app development
Do mobile app development or android ,ios app developer
Develop android apps, ios app, app development
Develop mobile apps in flutter and firebase
Develop mobile apps in flutter and firebase
Develop android and ios mobile apps using react native expo
Mobile app development for android and ios using flutter
Develop an android app or will be your android app developer
Do ios app development or be your iphone app developer
Design and develop android apps in android studio
Design xamarin forms ui ux for ios android uwp
Develop android application for you kotlin java
Convert adobe xd, figma design into xcode swift
Develop pwa or progressive web app development
Develop pwa or progressive web app development
Create custom hybrid android and IOS mobile app using flutter
Create earning app for online earning
Develop your mobile app with react native and expo
Mobile app development for IOS and android
Develop native ionic angular IOS and android app
Develop both android and ios mobile apps using flutter
Provide complete android apps and bug fix
Be your flutter developer for android and IOS application
Be your flutter developer for android and IOS application
Build mobile app, mobile app development,mobile app developer
Build mobile app, mobile app development,mobile app developer
Convert adobe xd, figma design into xcode swift
Do ios app development or be your iphone app developer
Develop android application for you kotlin java
Create earning app for online earning
Design xamarin forms ui ux for ios android uwp
Design and develop android apps in android studio
Create custom hybrid android and IOS mobile app using flutter
Develop pwa or progressive web app development
Create a ios app using swiftui
Provide complete android apps and bug fix
Transform your excel or google sheet into mobile application
Develop your mobile app with react native and expo
Develop both android and ios mobile apps using flutter
Be your flutter developer for android and IOS application
Develop native ionic angular IOS and android app
Mobile app development for IOS and android
Build mobile app, mobile app development,mobile app developer
Develop an android app or will be your android app developer
Develop cloud based augmented reality or ar app
Be building mobile app for iphone and android
Be your professional ecommerce mobile app developer,
Develop nfc tag read write ios and android mobile app
Make chatting, dating, social media, video call app
Be you flutter application developer and will do flutter
Develop android IOS mobile apps in hybrid technology
Develop ios mobile app using swift xcode
Develop flutter mobile app for android and ios app
Develop ios and android mobile application using flutter
Create android app or your android app developer
Be your developer for android and ios based mobile apps
Develop your web app, backend with xano and draftbit
Develop android and ios mobile apps using react native
Develop ios apps for iphone and ipad using swiftui and xcode
Develop android, ios apps in flutter with firebase
Do ios app development for iphone and ipad using swift 5
Be your flutter developer for hybrid apps
Be your android app developer for mobile app development
Develop design your mobile apps android ios native or hybrid
Develop ios apps for iphone and ipad using swift 5
Be your android app developer for android app development
Develop an android app
Help you to launch home services app
Develop a flutter app for both android and ios
Develop an android app or will be your android app developer
Design and develop hybrid android, ios app using flutter
Develop first rate flutter app for android and IOS
Develop your android app or be your android app developer
Develop an android app or will be your android app developer
Build windows and android app with kivy and kivymd
Develop best flutter app for android and IOS
Develop a cross platform app using react native
Build flutter ios android mobile app API for you
Develop ios apps for iphone and ipad using swift 5 and xcode
Develop mobile app with bluetooth, API integration
Build cross platform xamarin forms apps
Do custom mobile apps development for android and ios
Do mobile app development
Iphone app android app developer ios mobile app development
Develop ios app for your business
Be your ios and android mobile app developer
Develop native android app for you
Be your android app developer for android studio application
Do android studio apps projects and tasks
Design and develop ios and android mobile apps
Develop your android and ios mobile app using flutter
Develop an android, IOS mobile app using flutter with firebase or apis
Develop an amazing ios app form scratch
Fix bugs and build mobile applications
Develop android app with kotlin java and firebase
Do flutter ui flutter app flutter design flutter web
Build multi restaurant food delivery android app
Create react native app for you
Develop android and ios mobile app using flutter
Expert in mobile app development
Develop ios and android mobile app
Make the successful mobile apps
Mobile app development ios iphone android developer
Be your android developer using kotlin and java
Develop android mobile app, ios mobile app, mobile app development
Develop ios and android app using flutter
Develop pro android earning app for passive earning
Build food delivery app android ios and web admin restaurant
Be your flutter developer
Be your android app developer, kotlin app or java developer
Develop bubble io adalo web application bubble app bubble io bubble app adalo
Be your android app developer for android app development
Decompile android apk and can give android studio code
Be your ionic expert mobile developer for you
Develop an android app or will be your android app developer
Be your flutter app developer
Develop your hybrid app with buildfire and bravo studio
Develop your android apps or be your android developer
Do ios app development using swift with firebase
Create react native mobile application for IOS and android
Develop android and IOS app using flutter
Make most beautiful android and ios app for you
Develop an android app or will be your android app developer
Do mobile app development for android and ios with flutter
Do mobile app development as ios and android mobile app developer
Develop amazing both android and ios app using ionic
Do react native mobile app development
Be building flutter mobile app with flutter firebase
Complete mobile app with ui ux design with source code
Be your flutter application developer
Develop amazing mobile app android, ios, web
Develop your android IOS and web app using flutter with backend
Develop a mobile application for android and ios
Create and andriod and ios app using flutter
Build mobile app using flutter for both IOS and android
Ios app development iphone app mobile app developer in swift
Build mobile application for android, IOS using react native
Be android app developer, android studio application
Develop android app with php web services and sql database
Develop your dream mobile app for ios and andriod
Be your appsheet expert
Be your flutter developer and build ios android app with firebase
Develop android and ios mobile apps using flutter
Develop ios and android mobile apps using flutter and native
Develop IOS and android apps using flutter
Create android apps for you if you need
Your ios app developer,ios development and iphone mobile app
Develop your react native android and ios apps
Provide employee tracking mobile app and cms
Create android mobile app in java
Develop responsive android app
Develop ios and android apps in flutter cross platform
Shape your mobile app idea into reality
Develop mobile app android and IOS app using flutter,
Create flutter app for you
Create ios application, iphone mobile app for your business
Work in react native i am very best in react native
Develop your amazing ios and android apps with flutter
Design and develop progressive web app pwa for you
Develop your android app in kotlin
Convert the design to real react native application
Develop your IOS and android mobile app with flutter
Create professional android and IOS app on react native
Build shopify mobile app
Be building mobile app for android and IOS
Build an android app or be your android app developer
Build beautiful mobile app using flutter and firebase
Create mobile apps ios and android
Develop android app or game using android studio
Convert figma, adobe xd or design files to react native app
Build ios, iphone, android and mobile application
Be your android developer for android app development
Develop android and IOS mobile apps using flutter
Develop hybrid ios and android apps in flutter and react native cross platform
Create android and ios app using react native
Build cross platform mobile application in react native and flutter
Be your mobile app developer and android app using kotlin, java
Mobile app developer for android and ios app development
Be your flutter application developer
Develop a complete android app for you
Develop android and ios mobile app using react native
Create and design mockup prototype for your app
Do flutter mobile app development with flutter firebase android ios
Develop food delivery apps like ubereats doordash grubhub
Give flutter android and ios mobile app development services
Ios app development android app and mobile app development
Develop responsive ios, android app with flutter
Develop mobile app using react native
Ios app developer and android app developer and do mobile app development
Develop bubble app, bubble custom plugin, bubble website on bubble io
Design android mobile app, ios mobile app, and mobile app development
Develop or fix your quasar, vuejs or nuxtjs app
Be mobile app developer for android and ios platform
Be your no bugs mobile app developer android ios or hybrid
Ios app developer android app iphone mobile app development
Build on demand courier delivery app and parcel delivery app with free website
Do mobile app development for android and ios
Build android and IOS mobile app using flutter
Do best android and ios mobile app development
Help you debug formulas and automations in appsheet
Design android app XML front end with neumorphism technology
Build a mobile app for android and IOS
Do mobile app development for android and ios mobile apps
Be your android app developer on android studio
Do mobile app development for iphone android
Create uber clone app in flutter
Develop ios and android mobile app development
Make money earning app for android
Create a native ios app for you in swift
Be building flutter application for you in android and ios
Provide cross platform apps using react native
Develop hybrid and native mobile apps using ionic 4 and 5
Design android mobile app, ios mobile app, and mobile app development
Develop ios and android mobile apps using react native
Develop taxi booking app like uber, ola, lyft
Do advance android development and designing
Build IOS and android mobile app using flutter
Do android ios app development as expert mobile app developer
Create modern glassmorphism UI design in XML in android studio
Create a simple app
Convert your business and ideas to android apps and fix bugs
Do any type of app under 30 days, ios and android
Develop a uber app for android and IOS
Create a cross platform app for you
Develop android app or be your android developer
Develop your new custom android app
Build high quality android and ios application
Develop a robust custom app for you
Do airbnb,travel,real estate app
Bubble app developer adalo bubble io appypie appgyver developer appsheet bubble
Develop react native mobile application, android, ios
Develop mobile apps using ionic framework
Build elegant android applications in kotlin
Make your idea or requirement into a powerapp
Develop ecommerce hybrid mobile app android
Develop nativescript mobile apps
Develop nfc,rfid read write apps
Design and develop mobile app in flutter
Develop bluetooth low energy mobile applications
Develop a custom app using flutter for android and ios
Create flutter android and ios app for wordpress learnpress lms
Build mobile app using flutter for both IOS and android
Give restaurant flutter app with laravel website,admin panel
Develope android and ios app using flutter
Develop and build mobile app for android and ios in flutter
Desarrollo de apps y webs multiplataforma y diseño UX UI en español
Create your android and ios app using flutter
Build professional cab booking app for you, taxi booking app
Build gps location tracking mobile app for android and ios
Do react native mobile app development
Publish your android app on google play store
Be your mobile app developer ios and android
Develop custom flutter app or update existing app
Do android development in android studio
Develop an ios app for iphone and ipad in swift and swiftui
Be your mobile application developer for building mobile app development
Develop and clone an app with bigo live features
Develop your hybrid mobile app using react native and expo
Develop mobile apps using flutter and firebase
Make awesome flutter UI
Create a wallet app like trust wallet for android and ios,erc20 token
Create android and ios application for your business
Convert website to android app and IOS app
Develop your android app or be your android app developer
Design and develop android applications
Create a cross platform mobile app in react native
Create android and ios application for your business
Create a cross platform mobile app in react native
Create ios apps in swift 5 with firebase
Design and develop android applications
Develop android app with flutter
Be your android app developer for android development
Be your android mobile app developer, ios mobile app development, iphone app
Develop both android app and IOS app using flutter
Do nfc tag read write ios mobile app smart card popl clone
Transfer your idea into native ios iphone app in xcode
Do mobile app development and app ui ux design
Develop a flutter hybrid mobile app for android and ios
Create VPN app for passive income with admob
Crypto trading bot, mining bot, crypto wallet app, blockchain app, trust wallet
Create pro quiz trivia app unlimited questions and categories with admin panel
Do clone of dating app like tinder
Be your flutter developer to develop ios android flutter app
Develop food delivery app, website, taxi app, booking app
Develop web and mobile applications using react and react native
Be your flutter developer for IOS and android flutter app
Publish android app ios app on apple store and play store
Create image guess or trivia quiz earning money app with admin panel
Do ios mobile app development using swift
Develop an android mobile app using react native
Develop your native android mobile app with kotlin
Do your flutter assignments
Develop android and ios mobile apps with react native
Create you ai based android or IOS application
Develop an android app for you or will be your app developer
Do android app development
Develop cross platform mobile app in xamarin form or react native
Develop augmented reality mobile application
Develop android applications using kotlin and java
Build your ios and android mobile app using flutter
Develop ios application in iphone and ipad using swift 5
Do mobile app development in flutter ios android app
Build mobile app using flutter for both IOS and android
Develop an mvp as an adalo mobile app for your startup business plan
Develop ar and VR application and games
Build your doctor appointment booking app,website like zocdoc,practo,callondoc
Convert figma, sketch design to react native mobile app
Do flutter mobile app development, develop android and IOS apps using flutter
Create a react native mobile app for ios or android
Develop an ios app in swiftui
Build a simple android app for you
Develop, design android ios mobile app using flutter,kotlin,react,native, studio
Develop mobile app android and IOS app using flutter
Develop uber clone careem lyft ola for android ios and web
Develop your hybrid android and IOS flutter app development
Augment your vision in ar app using augmented reality
Develop a flutter app for android and IOS
Fix bugs and develop xamarin forms apps
Be your android app developer on android studio
Do mobile app development as your android app developer
Develop professional android application
Design and develop apps for android and ios using flutter
Develop your android and ios mobile app using flutter
Be your native ios developer swift objective c
Do ecommerce mobile app in a week
Develop cash app, money transfer app, send wallet, bank app
Develop custom and professional android application
Developed earning app for earning
Make your earning game app
Design and develop android apps in android studio
Develop ios and android app using flutter
Make tik tok like app short videos app with panel tiktok clone
Create your delivery app for restaurant italian developer
Develop ios and android mobile app using react native
Create cross platform app with react native
Create custom android and IOS mobile app using flutter
Be your android app, ios app, mobile app developer
Be your android application builder mobile application builder in android studio
Do cross platform react native mobile apps
Create a fitness app, workout app, health app, gym app
Develop fantastic classified website, classified app, classified ads
Developed application same a tiktok application
Develop flutter mobile apps for android and ios
Develop IOS app for you in minimum budget
Create awesome flutter widgets from xd design
Developed mobile application in ionic framework
Be react native app and android developer and designer
Create react native app with modern ui will be work on android and ios
Develop a taxi booking app for your taxi booking business
Develop VPN app for android with ads and subscription plan
Develop web apps, frontend in angular, ionic
Help you brainstorm your application idea
Build android and ios app using flutter
Do app development and be your android app developer
Design and develop your mobile app idea for android
Do your complete app development with flutter on ios and android
Develop android and ios app using flutter
Build native android mobile app
Develop react native app ios android mobile developer
Develop native ios and android app
Flight and hotel booking android app development
Make your full app for ios and android and publish it
Make taxi app like uber, careem, lyft and ola
Develop IOS and android applications
Do android or flutter app development
Develop high quality android app in android development
Create ios travelpayouts app for you
Develop android and ios app using flutter
Create your ios or android mobile app
Do android and ios mobile app development using ionic
Design android mobile app ios mobile app and mobile app development
Design and develop IOS or android app
Make mobile apps using react native
Do on demand multi services app
Do mobile app development, UI design for android and IOS using flutter
Develop a mobile application with backend using flutter
Make custom android apps from scratch
Develop mobile app in react native using cli and expo
Develop fitness app, health and fitness, gym app, app development, mobile apps
Convert figma or xd into ionic app android and ios
Make android and ios applications that suits your business or personal needs
Build wallet app bank app nft minting website crypto sport website nft game
Make your mobile app in a week
Build restaurant menu app
Create bluetooth enabled android applications
Do ios and android mobile app development
Do android and ios mobile app development
Design and develop your app with flutter and firebase
Develop android and ios apps
Develop mobile app in react native
Do mobile app development, mobile app, building mobile app, android and ios app
Be your react native developer for ios and android app development, custom apps
Do mobile app development of ios developer android developer
Develop android ios mobile apps perfectly
Build android radio app for your online radio station
Develop ios swiftui n uikit in swift with firebase ,rest api
Make android professional custom vpn app using openvpn
Build flutter app for android and IOS
Help in setup and fix issues on mobile apps reactnative
Do development and implementation of supabase and firebase
Develop a food delivery app, for your food delivery business
Develop android, ios app
Do google sheet to app using appsheet
Build or fix android app issues and bugs
Develop your music streaming app for your music streaming business
Android woocommerce app in 2 days
Develop a professional mobile app using flutter
Design and develop ios and android applications
Design responsive UI for your android application
Integrate mapbox map in android app using kotlin