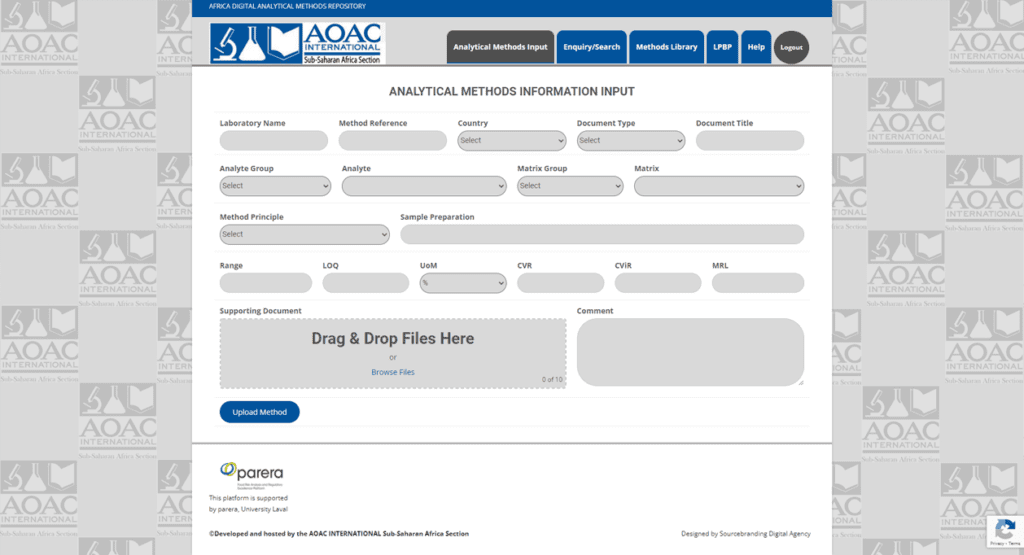 Development of Digital analytical methods sharing platform
Creation of a digital platform to exchange on methods of analysis
Sourcebranding built the Digital analytical methods sharing platform to provide intuitive access to the most comprehensive set of analytical methods and data made publicly available by AOAC, including lab data on scientific data from all over the world. The Dashboard allows Scientists to browse analytical methods, Submit and extract data. Visitors can
search for individual methods by reference, matrix, range, type, name, country, organization, and various input data including performance data benchmarks. The site is rich with data and includes a powerful custom report generating and information submission tool.
Sourcebranding used PHP technology and other low-latency techniques to make the site feel quick and responsive even though it is managing and presenting a large volume of performance and data information. Sourcebranding believes the Digital analytical methods sharing platform is a great example of how research data and reports can be unlocked from the limitations and moved to the digital world.

Technologies: WordPress, PHP, Java, MySQL, CSS, HTML, Flash and JavaScript
Website https://aoac-ssafrica-digitalmethod.org
Our objectives
Develop a digital platform to facilitate the sharing of analytical methods
Compare methods used with the international official methods
Identify gaps with the analytical methods used
Determine improvement actions e.g. capacity building, method development, etc
What are the benefits?
Enables transparency of the methods laboratories use to quantify specific analytes in specific matrices
Allows comparison of analytical methods and their performance
Facilitate alignment and harmonisation of analytical methods
Allows the community to identify analytical methods development and capacity building needs
Facilitates consensus around whether an analytical method is fit for purpose