WHY YOU NEED A WEBSITE IN 2020
We all know Websites work no matter what your business or profession, a website can generate business, promote goodwill among customers and prospects, and deliver strong marketing messages – whether your business is small, large or in-between, well-established or altogether brand-new.
People use the Web in greater and greater numbers, more and more every day. Even if you are a completely local small business, service, contractor or consultant, odds are people have used search engines (SEO) to look for your web site – and if you don't have a web site… well, you get the picture.
Your business Web page delivers that picture to your customers and prospects, and does it round the clock every second, every day and every year 24/7/365.
Perhaps the most common misconception about business websites is that they must offer products for purchase, accept credit cards and process financial transactions, and so on. Nothing could be farther from the truth.
While ecommerce websites are increasingly popular, the vast majority of business websites are still information and communication rather than purchase-oriented. If your business offers products and services appropriate for retail sale over the Internet, then by all means you should consider an ecommerce website.
But if, like most businesses, your products and services aren't intended for Internet sales, you still need a Web page of your own. And you can get one quickly and economically.
The first thing you will need is a Web hosting service – that's the address of your business Web page, and the company that actually stores your business's website on its computers and makes it available to Web users. Many Web hosting companies offer both domain and hosting services. Here are some things to consider as you build a website for your business:
Choosing a Domain Name
Ideally the address of your website will match the name of your business, such as yourcompany.com; in reality, many addresses are already taken. If that's the case for you, give some thought to an original Web page address/name that reflects your business: optionmytownname.com, perhaps, or something similar. Remember: your Web page address should deliver your business's name as closely as possible, as well as being memorable and distinctive. Your website's address is a marketing tool too. Should this pose too much of a trouble one of our developers can help. 
Hiring a Web Hosting Service
Look for a Web hosting service that's well-established and has a reputable history. Compare fees and determine what services and features are provided for that fee. Also, don't forget the future – you will find that your business Web site can easily be expanded, updated, grown. Make sure your Web hosting service can accommodate changes and additions, quickly and economically.
Creating a Website Design
Creating a website is simpler than you might think. CMS Website creation and website software make building a website for your business almost as easy as creating and sending an email. Using website templates, website software/CMS lets you accomplish building a website quickly, efficiently, and for a very small or no price at all.
Although custom-built website design costs more than making your own Web page, so you'll want to be sure that both your goals for your business website and the capabilities of your Web designer justify the cost of having a custom website.  
WHY YOU NEED A WEBSITE IN 2020—NO MATTER WHAT INDUSTRY YOU'RE IN
Look, in 2020, you need a website. You needed one the day you started your business, but better late than never hey.
At Sourcebranding Digital Agency, success is our middle name. We WANT you to succeed. So, in this brief, we'll cover:
Non-negotiable reasons why you need a website
Common objections broken down
How much a website costs
If you're ready to unlock your company's success and get started with a lead-driving website, you can contact us here.
1. You Need a Digital Business Footprint
On average, people spend nearly 5 hours every day on their mobile devices. So, if you want to be discovered where people are spending their time, it's essential to have accurate information about your company, business or organization accessible in that space.
A website acts as a digital directory for a company: people can reference it again and again for things like contact information, names of employees, services offered and many more. Well, who knew?
2. You Need to Be Discoverable/visible in Search Engine
People don't just browse the Internet to discover companies they want to do businesses with; more specifically, they visit search engines like Google. 93% of online experiences start with a search engine. And nearly half of these searches are for local businesses.
So, you need to have a search-optimized company website that can rank well in search engine results. This will ensure consumers are able to find, and connect with, your business.
3. People Search with Proximity in Mind
It's important to have an optimized website so you'll appear in search results—especially because studies have shown that people tend to take to their computers or mobile devices to search for things that are close to them. In fact, 4 out of 5 consumers use search engines for local information.
These searches aren't just surfing the web either. 88% of searches for local business on a mobile device either call or visit the business within 24 hours. Having a website allows searchers who are looking for a business within close proximity to discover your business and get in contact with you.
4. Builds Business Credibility
When it comes to convincing consumers to buy, first impressions are important. Fifty-seven percent of people won't recommend a business with a poorly designed mobile site. That's right consumers make judgements about your business based on the appearance of your website.
Having a professionally designed, thorough and easy-to-use website can help you to more easily convey to potential customers that you are a reputable organization, one they want to do business with.
5. SEO Is the best

Cost Effective

Marketing tactic
Let's face it—every company wants to optimize the cash in their budget, ultimately getting the most amount of bang for the least amount of buck. When it comes to marketing, having a website that is optimized for search can be one of the most cost-effective marketing strategies.
Are you thinking about tackling SEO yourself? We wouldn't suggest it, after all you have a business to run. But there are some basic tactics that you can take to position yourself to be discovered through search.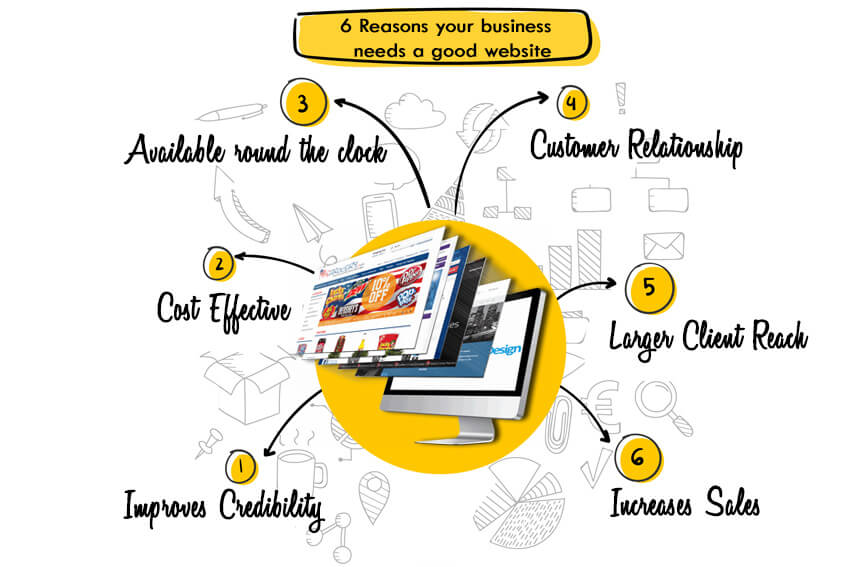 6. NB. Google Ranks Local Businesses Higher When Searchers Use Mobile Devices
Google assumes that a user doing a search on their mobile phone is most likely on the go, and, in turn, looking for a business in close proximity. Thus, the search engine favors local businesses when people do mobile searches.
Having a company website that is optimized for mobile gives you the chance to take advantage of Google's preferential treatment and appear higher up on the results page. This ups your chances of consumers discovering your company in the moment that they're looking for it and means they're more likely to get in touch.
7. Your Website Stays Open 24/7 365
Unlike your business, which most likely does not operate or communicate with customers after-hours, your website stays open 24 hours per day, 7 days per week. This means that even when your staff is not available to interact with people looking to do business with you, your website is accessible and able to provide helpful information, serve as a point of contact or even allow customers to make purchases or submit orders.
8. We Sure your Competitors Probably Have One
While 36 percent of businesses don't have their own website, 64 percent of them do. This means that the majority of small businesses DO have a presence online, and it's likely that your competitors have a website that is appealing to people in your area.
If you want to stay relevant and competitive within your field, it's important that your business have a footprint online—it not only helps you stay competitive, but it also helps cement your role as a forward-thinking, tech-savvy business that is current.
9. Helps Your Business Grow
If you're hoping to expand your business and bring in new customers, having a website is an important strategy. Small businesses who've experimented with launching a website report being happy with their success. Surveys on small business' websites show that 81 percent of companies that launched sites saw their business grow, and 97 percent of small business owners would recommend having a website to other small business owners.
10. You can Hone Your Brand Image
A website is a good place to hone your brand—using your specific aesthetic, vocabulary, and more—it's the ideal forum for you to shape the narrative about your company.
Social media pages (like Facebook) and peer review sites (like Yelp) on the other hand, allow your company's image to be shaped via input from the public—this can be helpful but doesn't always paint the picture you would prefer to see. By creating and managing your own company site and content, you get to paint the picture of your business.
How Much would a Website Cost?
A website can cost anywhere from free to upwards of 1000 grand. 
For example, if you choose to DIY with a platform like WordPress, you'll pay 0 fee to create a website thats wrapped in wordpress URL. On the other end of the spectrum is a completely custom website from a professional website design company tailored for your business needs. With these, you're looking at an investment of a few thousand.
Do not let a price tag deter you from creating a website. If you're a one-man operation with zero budget, at least get a basic website that you can jazz up later when you have a better cash flow. We are always open to discussing a suitable budget.
Here's what goes into the cost of a website:
Hosting –  This is the service or company providing space on the internet for your website. Hosting providers include GoDaddy, InMotion, and others. We recommend you use GoDaddy.  
Domain name – This is shown as www.yourcompany.com, and is usually a yearly payment. Registrars, as an example, charges $14.99 per year for your domain name.
Design – Some designs are free, others cost money.
Plugins and extensions – Typically, the more plugins you want, the more expensive a website gets.
Complexity of design – The more customized your website is, the more expensive it is.
In conclusion
If you read or happen to come across an article saying you don't need a website, send it to us, and we'll tell you why THAT'S wrong. It costs money to get started with a web presence, and quite frankly, you'd have to be insane not to get one. If you need help, give us a shout—we have a wide range of website design packages for every budget, and we'd be happy to walk you through your needs.