New Website For Performance Management Training (PMT) Ghana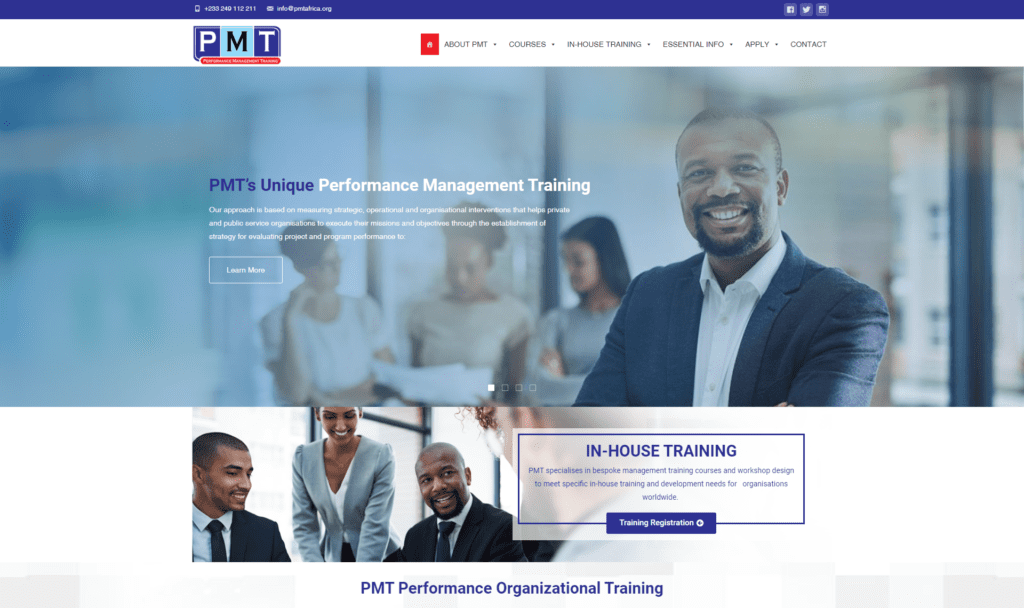 Performance Management Training (PMT) selected Sourcebranding Digital Agency to produce its new website.
The site offers course related training to private and public service organisations. The website is dynamically displayed and together with a selection of great design. Whilst there are a number of training agencies in Ghana Accra, Performance Management Training (PMT) are keen to emphasize they are not your typical training providers. Performance Management Training (PMT), based in Ghana, is a specialist in working with small and medium sized businesses and organisations, providing solutions to problems they face.
The site is integrated with the WordPress Content Management System (CMS) which enables the Performance Management Training (PMT) marketing executive to easily maintain and manage their online web presence.
For further information please see https://pmtafrica.org/
About PMT
As organisations strive to increase productivity of their staff, performance management has become the benchmark of all organisations that strive to meet their set corporate
objectives. But how this can be achieved remains a daunting task, and this has remained one of the most complex issues to address in human resource environments.
Training centre – Performance Management Training Inc (PMT) – is right on the spot to provide strategic training interventions to close the gap in staff performance
deficiencies and to scale-up existing knowledge to better performance at optimum levels.