Paraiso de Dongane (Mozambique) Website Development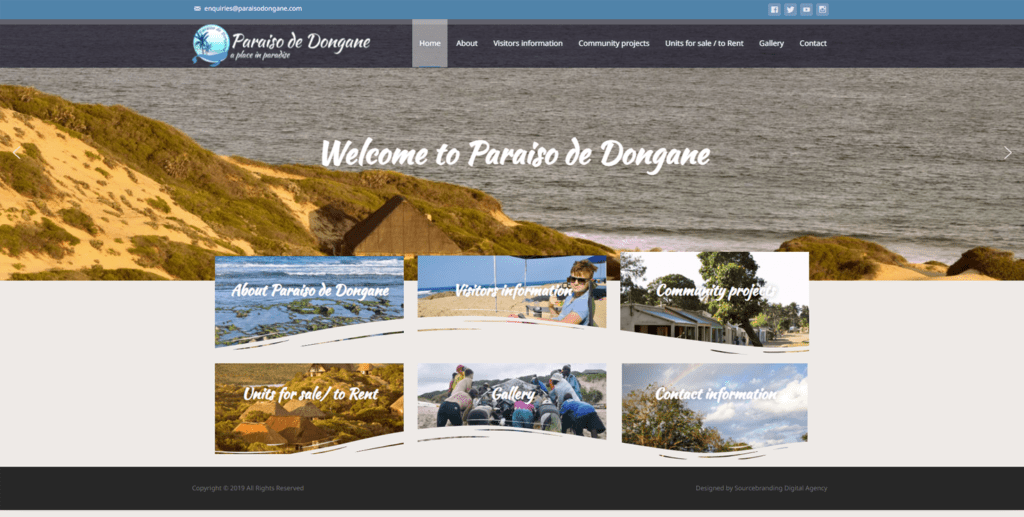 Paraiso de Dongane excutives tapped Sourcebranding to design and produce the website based on our proven track record of providing organizations with high quality websites that are feature rich and aesthetically pleasing. We worked with Paraiso de Dongane executives to develop the newly redesigned site, with a focus on developing a website that used color, font and layout to stand out more, communicate effectively and ultimately be memorable. A key component in this process was working with Paraiso de Dongane excutives to ensure that the website content is well organized and that site functions are easy to use. Through these efforts Sourcebranding Digital Agency was able to develop a website that not only acts a repository for information, but also allows visitors to truly interact with Paraiso de Dongane.
The website also provides Paraiso de Dongane staff with the ability to add, delete and edit content using the WordPress content management system.
Technologies: WordPress, PHP, MySQL, CSS, HTML, and JavaScript
Website http://paraisodongane.com
Paraiso de Dongane. Paraiso, the Portuguese word for Paradise, describes exactly that.
A Paradise.
This coastal resort is situated about 50km south from Inhambane just off the EN1, after the turn off from the main road, the 20 km gravel road meanders through local communities and farm land until you arrive on top of the hill with breath-taking views of large inland lakes and the ocean on the other side of the dune. Only accessible by 4X4 and it's off the beaten track, this tranquil area has exceptional bird life which flourish between several beautiful fresh water inland lakes and kilometres of untouched beaches. It gives you access to the unspoilt natural forest and bush landscape of the remote Mozambican coastline. The resort is nestled in a secluded area with amazing views from the typical Mozambican styled units.
Dongane offers a range of remote beaches that offer shallow pools, snorkelling and surfing spots, perfect for puddle jumping, pool floating, swimming and even waves that kick your hair right back. Only a sandy walk away, one can surely enjoy the early morning sunrises over the ocean or sunsets at the lakeside with minimal effort. Be sure to pick up fresh locally made bread in the Ligogo town as well as many of the local beers. Fresh fish, crayfish and other seafood can be bought daily from the locals at bargaining prices.